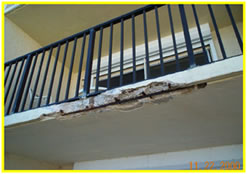 Does Your Property Look Like This? >>
If It Does, You May Have Structural Problems And You Could Be Red Tagged By The City!
Dart Engineering can solve your commercial building's "puzzle" with:
Certified Commercial Building Inspections
Repair Programs
Maintenance Programs (see related article)
Forensic Evaluations
Florida Statute 558 Inspections
Condiminium Conversion Engineering Reports
---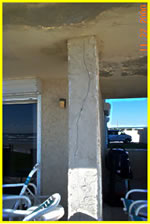 CERTIFIED COMMERCIAL BUILDING INSPECTIONS
These inspections can be used for:
- Negotiating a purchase price,
- Litigation support,
- Developing a restoration, remodeling, or maintenance plan,
- Settling an insurance claim.
All work performed by a State of Florida Licensed:
- Certified Commercial Building Inspector
- Registered Professional Engineer
- Certified General Contractor
---
Don't hire a residential housing inspector for your commercial property!
---
Condominiums, Hotels, Apartments, Senior Housing, Offices, Retail, Parking Garages, Industrial, Warehouses, and Institutional Buildings.

Fees starting at $4,000.